All right you miserable excuses for humanity, as a member of the Holy Empire you are automatically enlisted in our strong, great military. As such, you must prove yourself to all of us, especially
me
, as I will see if you are worthy to serve under our -sigh-
great goddess
Lady Chikara. Therefore, you are required to complete the following survey - to humor you, all of us shall fill it out as well.
On-line Identity/Identities:
DarkJuno
True Identity:
Michael
Favored Food:
Thai Fried Rice, Pizza
Least Favored Food:
Tripes
Favored Color:
Dark Blue
Favored Musical Genre and Group:
Classic Rock/Metal/Hard Rock, P.O.D.
Favored Television Program....
...as a baby?
AstroBoy
...as a child?
Batman: The Animated Series
...as a teenager?
Stargate SG-1, Frasier
...right now (if applicable)?
It
WAS
Heroes, but that Third season.....so nothing.
Favored Hobby?
Writing
Favored Game Genre and Game (if applicable)?
RPG's, Action/Adventure, The Legend of Zelda: Link to the Past
Favored Sport (if applicable)?
Soccer
What color are your socks?
White with grey tips
...is your shirt?
Grey
...underwear?
Dark Blue with white fish
Favored Shoe Type?
Boots
Hats: Yay or Nay? Defend Yourself!
Nay - doesn't go well with my hair at all
Hair: Long, Medium, Short, or Not Applicable? Explain!
Medium - long-ish, but not long either. Long in the front for my bangs/fringe/whatever-the-hell you'd call them, shorter in the back.
In a fight, you are most likely to...? (Be truthful - the only thing you will gain from deceit is death)
Try to talk my way out, but I'd end up swinging if push coems to shove - though only if provoked
In a group hug, you are most likely to...?
Shudder and try to get away
If real life spontaneously turned into a musical, you would...?
Only sing when forced to, probably in an ironic song about how singing is stupid
...what about an animated movie?
Be the boring character who snarks at everyone and acts like he hates everyone, but inexplicably still is friends with them anyway.
...an exploitation movie?
Make awful one liners while stabbing people in horribly cheesy, silly ways.
...all of the above?
Wonder what kind of sociopath made an animated exploitation movie - in song, of course.
Favored Defender of Justice (Superhero)?
Spider-man or Batman - haven't decided.
Favored Agent of Chaos (Supervillain)?
Seriously? Doctor Doom. Not-so-seriously? The Black Cat.
Multiple Choice: Star....
A. ...Wars
B. ...Trek
C. ...Gate
D. ...ship Troopers
C.
The main cause of the loss of personal funds?
Besides tuition, gas, and all that fun grown-up stuff? My DVD's and Trasnformers.
Pick One, by any logic and reasoning whatsover:
A. The Good, the Bad, and the Ugly
B. The Godfather
C. Apocalypse Now
D. Seven Samurai
B. Just because.
And Finally.....
Train Kept A Rollin', Crazy Train, or Train
Train Kept a Rollin' - gotta give it up for that song over the other two.
....AND! Show me a picture or video that proves that you know the meaning of the term, to borrow from your trite, lowbrow language, "bad ass" means. Like so.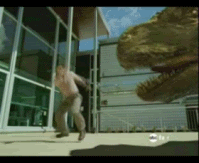 So there.
Edited by DarkJuno, 18 July 2009 - 10:12 PM.